View
Design

This baroque gold picture frame offers an ornate, exquisite, royal feel with antique distressing to highlight the age of the baroque period. The profile is 2-1/4" wide, with a rabbet depth of 1/2 inch.

The profile shape of this baroque style gold picture frame starts with a decorative gold pattern along the inside lip. This ruffled ribbon pattern catches various antique gold tones within the grooves and crevices, establishing contrast and distinction from the rest of the frame.

The next step up on this gold wood profile is a flat section that is 1/2 inch wide, and separates the gold ruffle pattern of the inner lip from an ascending ribbed scoop that leads to the highest ridge of the gold frame profile. The ribbed decoration emphasizes the extravagance and thoughtfulness of baroque architecture.

The highest ridge of this baroque gold picture frame shows distress markings, as the ridge is the most likely area to see wear in a baroque period or antique frame.

There are many great uses for this baroque gold picture frame, whether you're framing canvas art or matted artwork on paper. Consider framing religious art, inspirational art, wedding photography, beveled mirrors, or traditional landscapes from your latest visit to a foreign country.

Design Pricing and Details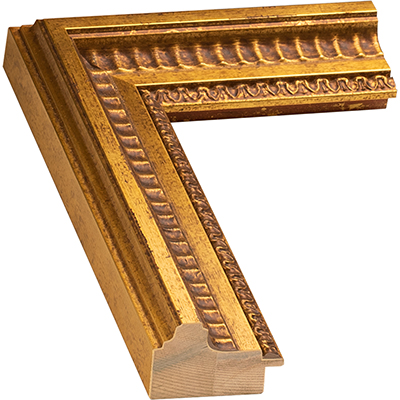 Inside Dimensions:
8 x 10
Approximate Outside Dimensions:
12 x 14

| | |
| --- | --- |
| Width | 2 1/4 |
| Height | 1 1/2 |
| Rabbet Height | 1/2 |
| | |
| --- | --- |
| Cost Per Frame | $62.24 |
| Quantity: | 1 |
| Total Cost: | $62.24 |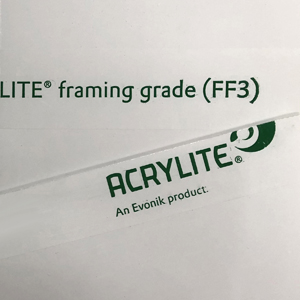 Sheet Dimensions: 8 x 10
| | |
| --- | --- |
| Cost Per Sheet: | $5.53 |
| Quantity: | 1 |
| Total Cost: | $5.53 |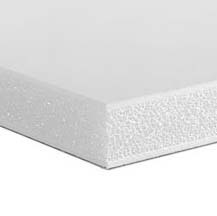 Sheet Dimensions: 8 x 10
| | |
| --- | --- |
| Cost Per Sheet: | $1.92 |
| Quantity: | 1 |
| Total Cost: | $1.92 |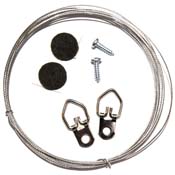 | | |
| --- | --- |
| Cost Per Set: | $1.95 |
| Quantity: | 1 |
| Total Cost: | $1.95 |
| | |
| --- | --- |
| Frame: | $62.24 |
| Acrylic/Glass: | $5.53 |
| Mounting Board: | $1.92 |
| Hanging Hardware: | $1.95 |
| Total: | $71.64 |