We offer free shipping, anywhere in the continental U.S, on all orders over $299.00 as long as there are no oversized items.
We are a United States based country. We ship to the lower 48 states as well as Alaska and Hawaii. Our normal shipping carrier is UPS(ground). Aslaskan and Hawaiian customers need to call for a quote for shipping costs.
Orders below $299.00 have a single $15.95 charge for all non-oversize orders shipped anywhere in the continental U.S. Any time there is an oversize charge, we clearly show that charge in the shopping cart area. In most cases, the charge will probably be low enough that you will want to have us join the frame for you. If you do not want to pay the oversize charge, you have the option of assembling the frames yourself and the oversize charges will be removed.
Orders ship in one to five business days. We ship from Eugene Oregon. Most packages will travel for one to five business days depending on your location. If we do not hear otherwise we will assume that a five day production time is ok. If we believe that a longer production time will be necessary we will contact you as soon as possible. Please let us know if you require a shorter shipping time. We will accept rush orders whenever possible and furnish you with a ship by date.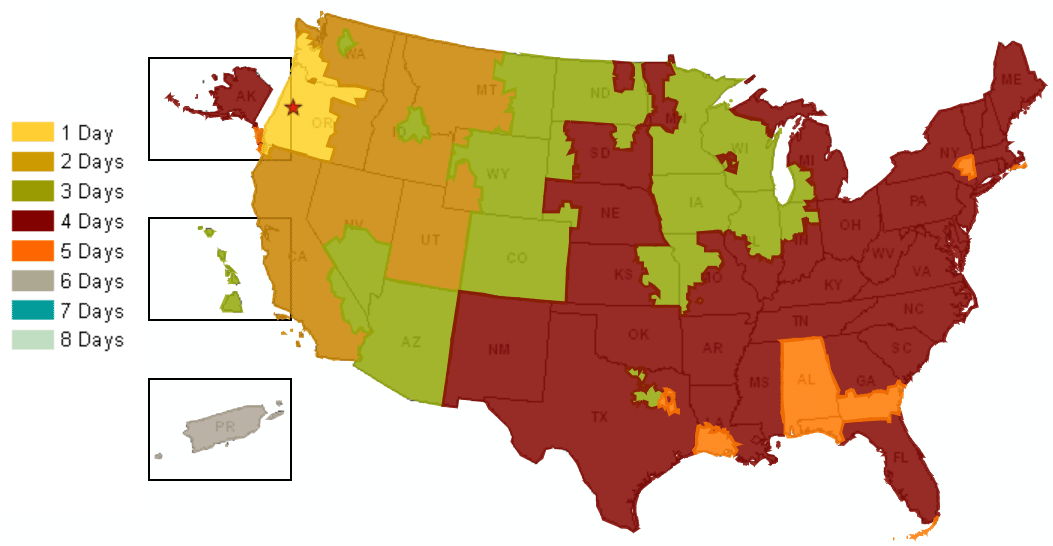 When you shop with us, you can watch the shipping charges change as you add items to your cart. If you have oversize items, the oversize charges will decrease as your order grows. Play around with our site. try putting some 24x36 frames in a cart with some 16x20 frames to get a sense of our shipping fees. try adding ten 30x40 frames and look at our charges. You will see how reasonable our fees are.
It is impossible to give you an exact size as to when oversize charges occur due to the fact that the shape of the frame as well as the width of the mouldings varies so greatly.
We can tell you that when a frame with an average width moulding has an inside dimension below 24x30 it will NOT have oversize charges.
Example:
| | |
| --- | --- |
| Very long and skinny | More traditional square shape |
| | |
Both frames may use the same amount of material but the long skinny frame will not cause oversize charges to occur as early as the square frame does. The other factor of a frame size is the actual width of the moulding. A narrow profile 24x30 frame may have an outside dimension of 26x32. A wide profile 24x30 frame may have an outside frame size of 32x38. Our website calculates the outside of the frame to determine oversize charges.
There are two levels when the oversize charges increase.

First level: When a frame with an average width moulding is around 24x30.
Second level: When a frame with an average width moulding is around 31x39.

Remember, we decrease the amount of the oversize charges as your order increases in size. So, very reduced or free shipping is available on some orders even with very large joined frames. When the extra charges are still larger than you wish to pay, you always have the option of selecting to assemble the oversize frames yourself and the oversize charges are removed. This information is all readily available within the cart long before you proceed to checkout.
The package delivery services (FedEx, UPS, etc.) have surcharges for large packages. We are unable to build a large box and ship an individual frame without charging the customer for some of these charges. As the order increases in dollars spent, we are able to help with the cost of the shipping. This is why you will see the oversize charges decrease as the order grows.
If you have oversize charges in your cart and you see those charges increase when you add another frame, it is because the last frame added was in the second oversize level.
Many web sites emphasize how easy it is to assemble your own frames. This may be true for some people, but it certainly is not the case for all customers. Sending you joined frames is simply an example of our "Everybody Wins" philosophy. If we can give you a great product and make your life easier, we are happy to do it! That's how we have built our business and kept it growing for thirty years.