Your frames are guaranteed to arrive at your location in perfect condition. If they are damaged we will replace them at no charge. With the quality of our packaging, we experience almost no shipping damage. We therefore self insure. We may require that the frame be returned before a credit is issued. Call our toll free number 1-800-410-5429 or email support@webpictureframes.com to receive a return authorization and have us issue a call tag. At our discretion, we may use other means to determine the damage to expedite the replacement process. Damage must be reported to us within ten days of receiving the products to receive a credit.
We offer free shipping, anywhere in the continental U.S, on all orders over $299.00 as long as there are no oversized items.
Orders below $299.00 have a single $15.95 charge for all non-oversize orders shipped anywhere in the continental U.S. Any time there is an oversize charge, we clearly show that charge in the shopping cart area. In most cases, the charge will probably be low enough that you will want to have us join the frame for you. If you do not want to pay the oversize charge, you have the option of assembling the frames yourself and the oversize charges will be removed.
We are a United States based country. We ship to the lower 48 states as well as Alaska and Hawaii. Our normal shipping carrier is UPS(ground). Aslaskan and Hawaiian customers need to call for a quote for shipping costs.
Orders ship in one to five business days. We ship from Eugene Oregon. Most packages will travel for one to five business days depending on your location. If we do not hear otherwise we will assume that a five day production time is ok. If we believe that a longer production time will be necessary we will contact you as soon as possible. Please let us know if you require a shorter shipping time. We will accept rush orders whenever possible and furnish you with a ship by date.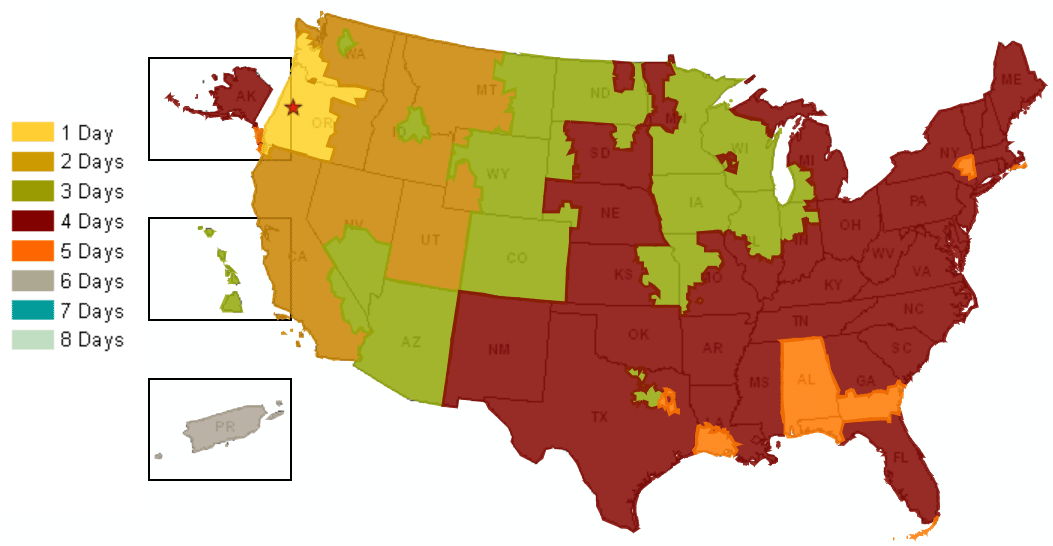 When a frame is around 24x30 and it is made from an average width moulding it is at the point where an oversize charge may occur. We have very low oversize charges to start and they decline as the total order grows. The charges are clearly shown in the cart before you go to checkout. Click for full explanation.
If you get a message in the shopping cart page that tells you to call for a quote, this means that at least one of your frame sizes has created a very large oversize order. If this happens you will be prompted to contact support at 1-800-410-5429. This should only happen when you have entered a very large frame.
Orders that absolutely must ship in three days or less may be subject to an expedited order charge. We will call with a quote before proceeding with these types of orders if an extra charge applies. Whenever possible, please order well in advance for important events, to allow for shipping delays or problems. We will always do everything we can to get your order to you as quickly as possible.
All non custom items may be returned for a full refund. Call or email to receive a return authorization. When we receive the products at our facility we will inventory and credit your account within 48 hours of their return. You will be responsible for the return shipping charges as well as the packaging to assure safe return.
Custom items are cut and made to your specifications. If we have produced the product with no errors on our part it is not eligible for return or refund. Custom items may vary slightly in tone and finish. Slight variations are not a valid reason for return. If you are placing an order and you have very specific requirements on the look of the moulding, let us know in advance. We will cut two identical pieces of moulding and send you one piece. We will keep one for a reference. If you approve the finish, we will work to very exacting tolerances.
All frames we make will be 1/8 inch larger than the size you give us. This means that you need to measure your art and tell us the exact size that your art work is. We add on the allowance not you. It is very important that first time framing customers understand this so they do not add the allowance themselves and then have us add it again. This 1/8 inch is called the standard allowance in the framing industry. This allowance is there so that things are not fitting to tightly in the frame and it allows for the contractions and expansions that occur with wood and paper products.
We accept PayPal, Checks, MasterCard, Visa, American Express, and Discover.
Your privacy is important to us. We will never share information with any other business. We collect only the information that we need to ship and process your orders. The following is the type of information collected:
Personal Name
Company Name
Billing Address
Deliver Address
Email Address
Phone Number
Fax Number
We use return email addresses to answer the email we receive and send order/shipping information. We do not use these addresses for any other purpose and do not share them with other parties.