View
Design

This framing-grade acrylic sheet is a superior indoor glazing for picture frames. At 3/32" thick, regular acrylic is comparable to glass in thickness, but only half the weight.

Schools, museums, and nursing homes are just a few settings where regular acrylic is preferred over glass due to its shatter-resistant properties. Artwork that is being shipped is also a good candidate for acrylic, along with priceless treasures that must not be damaged by broken glass.

When cleaning regular acrylic, be sure to use plastic cleaner or glass cleaner that is ammonia-free, and apply a small amount to a clean, lint-free microfiber cloth. Use light pressure to wipe smudges off the surface, as harder pressure or abrasion may cause regular acrylic to scratch.

Design Pricing and Details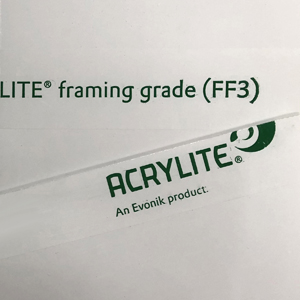 Sheet Dimensions: 8 x 10
| | |
| --- | --- |
| Cost Per Sheet: | $5.53 |
| Quantity: | 1 |
| Total Cost: | $5.53 |
| | |
| --- | --- |
| Acrylic/Glass: | $5.53 |
| Total: | $5.53 |