View
Design

Conservation Clear Acrylite glazing with OP-3 filtering technology protects artworks from the harmful effects of indoor and outdoor UV light rays. Over time, the ultraviolet rays in everyday indoor and outdoor light take a toll on artwork. Paper can become faded, discolored, and brittle, causing irreversible damage that can ruin the work of art.

Conservation Clear Acrylite with 99% UV protection helps protect art from fading by blocking harmful indoor and outdoor light rays, preserving art for years longer than regular acrylic.

When handling UV Acrylic, treat the material the same as regular acrylic. Wear cotton or nitrile gloves, peel back the protective film on both sides, and clean as necessary with ammonia-free cleaner and a lint-free microfiber cloth, wiping lightly to prevent scratching. When laying UV acrylic against your art, either side can face out, as the UV protection is inside the body of the acrylic sheet.

Of course, the most effective method of preventative care is to store your art in a climate-controlled dark closet with an ideal and consistent relative humidity. When such a method of storage is unrealistic, showcase the work under Conservation Clear Acrylite UV Acrylic, or consider upgrading to Optium Museum Acrylic.

Design Pricing and Details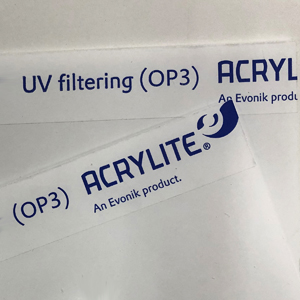 Sheet Dimensions: 8 x 10
| | |
| --- | --- |
| Cost Per Sheet: | $9.89 |
| Quantity: | 1 |
| Total Cost: | $9.89 |
| | |
| --- | --- |
| Acrylic/Glass: | $9.89 |
| Total: | $9.89 |